2.

Over-sampling#
2.2.

Mathematical formulation#
2.2.1.

Sample generation#

Both SMOTE and ADASYN use the same algorithm to generate new samples. Considering a sample
, a new sample
will be generated considering its k neareast-neighbors (corresponding to k_neighbors). For instance, the 3 nearest-neighbors are included in the blue circle as illustrated in the figure below. Then, one of these nearest-neighbors
is selected and a sample is generated as follows:
where
is a random number in the range
. This interpolation will create a sample on the line between
and
as illustrated in the image below: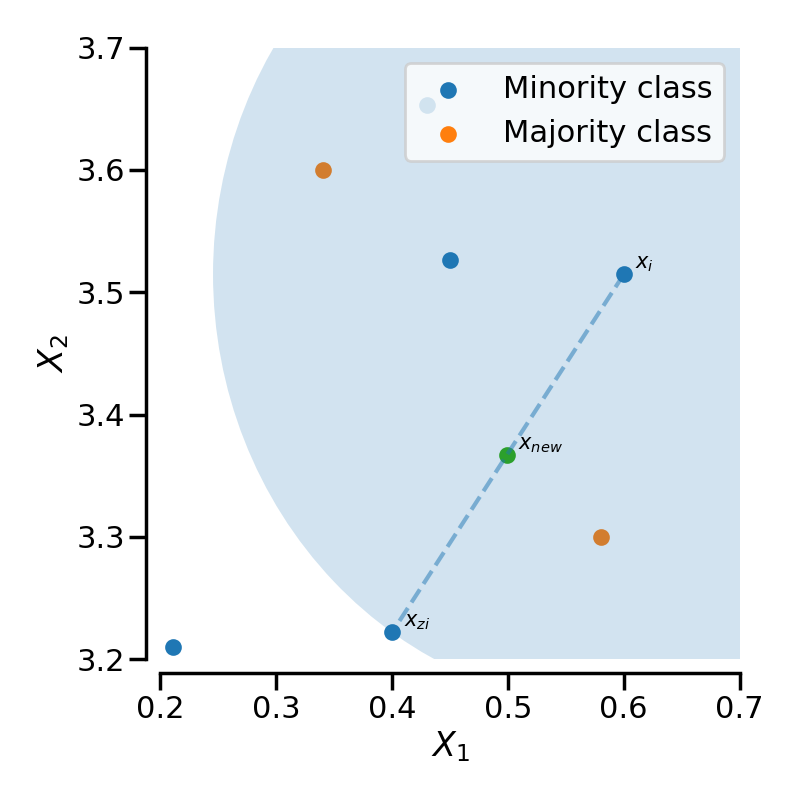 SMOTE-NC slightly change the way a new sample is generated by performing something specific for the categorical features. In fact, the categories of a new generated sample are decided by picking the most frequent category of the nearest neighbors present during the generation.
Warning
Be aware that SMOTE-NC is not designed to work with only categorical data.
The other SMOTE variants and ADASYN differ from each other by selecting the samples
ahead of generating the new samples.
The regular SMOTE algorithm — cf. to the SMOTE object — does not impose any rule and will randomly pick-up all possible
available.
The borderline SMOTE — cf. to the BorderlineSMOTE with the parameters kind='borderline-1' and kind='borderline-2' — will classify each sample
to be (i) noise (i.e. all nearest-neighbors are from a different class than the one of
), (ii) in danger (i.e. at least half of the nearest neighbors are from the same class than
, or (iii) safe (i.e. all nearest neighbors are from the same class than
). Borderline-1 and Borderline-2 SMOTE will use the samples in danger to generate new samples. In Borderline-1 SMOTE,
will belong to the same class than the one of the sample
. On the contrary, Borderline-2 SMOTE will consider
which can be from any class.
SVM SMOTE — cf. to SVMSMOTE — uses an SVM classifier to find support vectors and generate samples considering them. Note that the C parameter of the SVM classifier allows to select more or less support vectors.
For both borderline and SVM SMOTE, a neighborhood is defined using the parameter m_neighbors to decide if a sample is in danger, safe, or noise.
KMeans SMOTE — cf. to KMeansSMOTE — uses a KMeans clustering method before to apply SMOTE. The clustering will group samples together and generate new samples depending of the cluster density.
ADASYN works similarly to the regular SMOTE. However, the number of samples generated for each
is proportional to the number of samples which are not from the same class than
in a given neighborhood. Therefore, more samples will be generated in the area that the nearest neighbor rule is not respected. The parameter m_neighbors is equivalent to k_neighbors in SMOTE.
2.2.2.

Multi-class management#

All algorithms can be used with multiple classes as well as binary classes classification. RandomOverSampler does not require any inter-class information during the sample generation. Therefore, each targeted class is resampled independently. In the contrary, both ADASYN and SMOTE need information regarding the neighbourhood of each sample used for sample generation. They are using a one-vs-rest approach by selecting each targeted class and computing the necessary statistics against the rest of the data set which are grouped in a single class.